2022 HPGS GENERAL MEMBERSHIP MEETINGS & EVENTS
January 20 – Topic: The Long-Term Care Ombudsman Program with John McDermott
May 19 – Topic: Intergenerational Connections and Technology with four guest speakers
September 15 – Governor David Ige's Service to Hawaii's Kupuna
November – HPGS 6th Annual Fundraiser honoring John McDermott, Long-Term Care Ombudsman
---
ARCHIVE
---
November, 2022 – 6th ANNUAL HPGS FUNDRAISER to honor John McDermott, Long-Term Care Ombudsman.
---
September 15, 2022 – General Membership Meeting
"Governor David Ige's Service to Hawaii's Kupuna"
Speakers: HPGS President Rick Tabor; Gov. David Ige
---
April, 2021 – General Membership Meeting
"Moving Past the Pandemic: Where Are We Now?
Speakers: Kealii Lopez (AARP), CJ Johnson (DOH), Darrah Kauhane (Project Vision Hawaii)
---
January, 2021 – General Membership Meeting
"Why Be an HPGS Member?"
Speakers: Katie Ranney (Mediation Center of the Pacific), Judy Sykes (realtor), Colby Taketa (Blue Zones Project), Marilyn Seeley (PABEA), COVID update by Josh Green (Lt. Governor)
---
October, 2020 – General Membership Meeting
Topic: "What are the County Offices on Aging doing to support our kupuna during this pandemic?"
Speakers: William Horace Farr, Kealoha Takashashi, Derrick Ariyoshi, Deborah Stone-Walls
---
2021 SCHOLARSHIP FUNDRAISER
On November 4, 2021, HPGS held its annual scholarship fundraiser and honored Emmet White, retired President and CEO of the Arcadia Family of Companies that provides support and services to older adults in need. This event raised $18,320 for scholarships and training awards to help advance the study of gerontology and caregiving.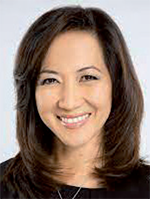 We were also honored to have KITV4 Island News anchor and Aging Well host, Diane Ako, emcee the event. Diane is a veteran news reporter and can relate to many aging-related issues as someone who managed the care of her late mother who had Alzheimer's.
---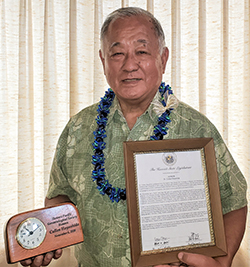 2020 SCHOLARSHIP FUNDRAISER
On Friday, November 6, 2020, HPGS held a virtual fundraising event that recognized Cullen Hayashida, who made great contributions to the senior community in Hawaii for many years. Over $12,000 was raised for HPGS to award scholarships to those in 2021 who will be studying in the field of gerontology.
---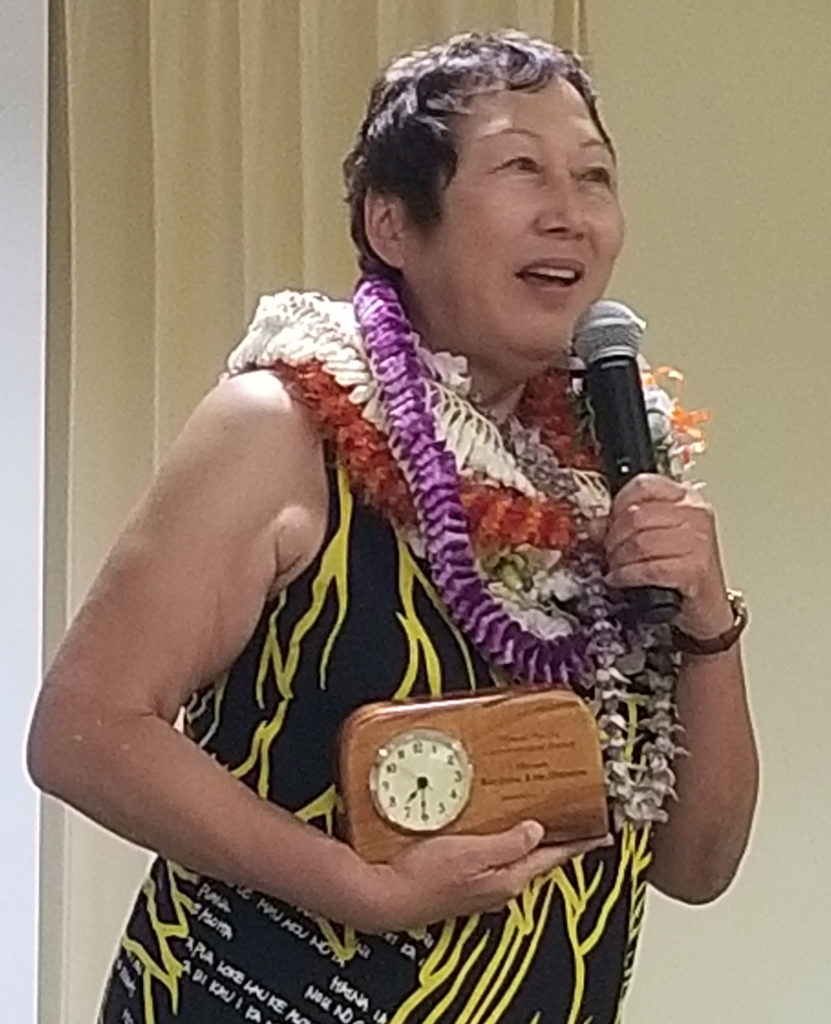 2019 SCHOLARSHIP FUNDRAISER
On Thursday, November 7, 2019, HPGS presented an award for outstanding contributions to the senior community in Hawaii to outgoing AARP State Director Barbara Kim Stanton. Nearly $8,000 was raised in connection with this event to support the HPGS scholarship program.
---